Most People Think Schuyler Colfax Existed
and in light of further investigation
He Actually Did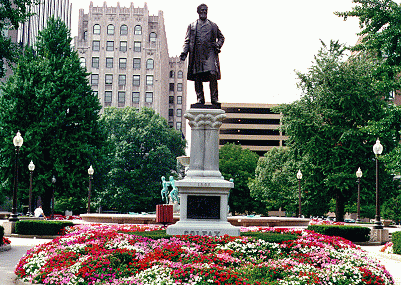 The Schuyler Colfax Memorial stands as an eternal reminder of Colfax's existence.
Ulysses S. Grant's vice-president, Schuyler Colfax, existed. Attempts by historical quacksalvers to discredit the unquestionable existence of this satisfactory public servant seem absurd at best, and at worst, treacherously deceitful. Yet inexplicably, only two-thirds of those recently polled believed that Colfax was a real historical figure. The widespread effects of a clandestine movement to erase Schuyler Colfax from the national recollection are now apparent. Only a clear delineation of the facts can halt this historical coup d'état. A thorough investigation of Colfax's accomplishments in the newspaper business, legislature and vice-presidency will serve to counteract the forces of Anti-Colfax among our intelligentsia.
Schuyler Colfax was born in New York City in 1823. Though no direct record of his birth has been discovered among governmental dossiers, later documentation indirectly affirms it by making reference to Colfax's age at a particular time. After moving to Indiana in 1836, Colfax rapidly accumulated wealth and acquired a South Bend newspaper in 1845. This purchase has served as quite the windfall for efforts to verify the actuality of Colfax's being, since his name appears on the masthead of countless copies of the paper that have been preserved in the Indiana State Archives.
After his political leanings drew him into allegiance with the Whig party, Colfax was elected to the House of Representatives in 1854. Documentation of his fifteen-year tenure in the House is far from ambiguous. For instance, according to the tally-sheet from an 1859 voting agendum clearly states that one "Schuyler Colfax" voted "nay" on Proposition 295, which clarified three non-vital agricultural regulations.
The most stalwart weapon of proof for those who believe in the existence of Schuyler Colfax came in 1868, when he was elected as the United States' 17th vice-president. While holding this position for the first term of Ulysses S. Grant's presidency, Colfax received much publicity and fame. Thousands of people saw him introduce President Grant at well-documented speeches and appearances, and he appears next to Grant on several primitive lithographs, which are nearly impossible to fabricate or alter. Colfax's implications in the Credit-Mobilier affair forced his political retirement upon the beginning of Grant's second term. The accusations of corruption may damage his historical legacy, but they actually support theories of Colfaxian reality. It is inconceivable that an entire political scandal could be constructed around a fictitious individual. Having fully verified his existence, Colfax died on January 13th, 1885.
The grave of Schuyler Colfax stands immutably on a plot in South Bend, Indiana. The marble cherub settled atop his gravestone seems to stand in perpetual defiance of the insidious mountebanks who would question Colfax's existence. It has been suggested that a simple excavation of the grave site would settle the question once and for all, but this challenge has never been accepted. This sheer cowardice on the part of Colfax's willful unbelievers should in itself confirm the existence of this adequate, adequate statesman.